Avant-Garde Performance. Live Events and Electronic Technologies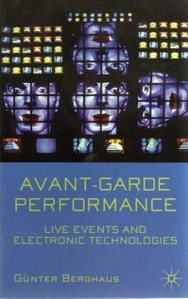 Avant-Garde Performance. Live Events And Electronic Performances by Günter Berghaus, Palgrave, Macmillan, 2005.
How did the concept of the avant-garde come into existence? How did it impact on the performing arts? How did the avant-garde challenge the artistic establishment and avoid the pull of commercial theatre, gallery and concert-hall circuits? How did performance artists respond to new technological developments?
Placing key figures and performances in their historical, social and aesthetic context, Günther Berghaus offers an accessible introduction to postwar avanr-garde performance. Written in a clear engaging style, and supported by text boxes and illustrations thoughout, this volume explains the complex ideas behind avant-garde art and evocatively brings to life the work of some of its most influential artists.
Covering hot topics such as multi-media and body art performances, this text is essential reading for students of theatre and performance.