Autobiography @ Ebtisam Abdulaziz. 2007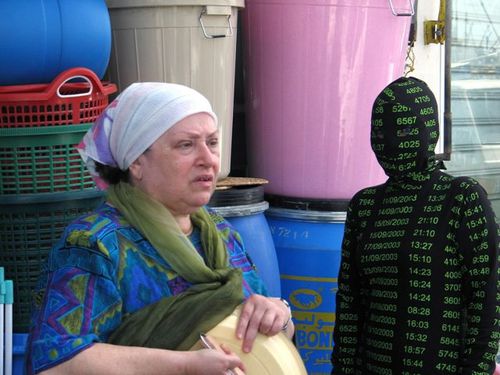 - ABDULAZIZ Ebtisam, Autobiography, 2007.
Ebtisam Abdulaziz was born in the emirate Sharjah, where she still lives and works today. She initially earned a degree in mathematics before devoting herself exclusively to painting for a period of time. She is currently one of the United Arab Emirates' most prominent artists. Her art often has a conceptual character. She works with performance and electronic media, and she is concerned with aspects of corporeal identity based on snapshots of the social reality around her.
This video, Autobiography, features Ebtisam Abdulaziz wearing a tight-fitting, black, full-body suit covered with rows of brightly coloured green numbers from head to foot. The numbers represent the artist's financial transactions from 2003-2005. In this video, which was originally shown on the screen of a cash machine, we see artist spending the money she has withdrawn. According to the artist, the work has a diary-like quality while at the same time it also binds and reduces human beings to their economic function. Abdulaziz used the suit again later in several performances in the public realm.