Dead Man @ Chris Burden. 1972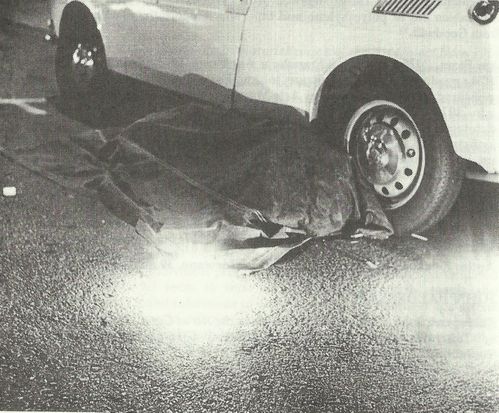 - BURDEN Chris, Deadman, Mizuno Gallery, Los Angeles, Ca., November 12, 1972.
« At 8 p.m. I lay down on La Clenega Boulevard and was covered completely with a canvas tarpaulin. Two fifteen- minute flares were placed near me to alert cars. Just before the flares extinguished, a police car arrived. I was arrested and booked for causing a false emergency to be reported. Trial took place in Beverly Hills. After three days of deliberation, the jury failed to reach to decision, and the judge dismissed the case. »
— Barbara T. Smith, « Artpiece Brings Arrest, » Artweek, v.4, January 6, 1973, p.3. Discussion of Burden's performance work, Deadman, for the Mizuno Gallery, Los Angeles, in which he placed himself under the rear wheels of a parked car on the street outside the gallery. He was arrested by the police during the event and subsequently went a trial. Excerpt:
« …we discorvered that the 'piece' was just on the other side of the vehicles parked in front of the gallery. We saw a 'body' beneath the rear wheels of a car, covered by a heavy tarpaulin. Two road flares had been struck and were lying nearby. Immediate thoughts of accident and death came to mind. A large crowd gathered in a semi-circle around the 'accident' and into the street. Wondering what was going to happen next, the possibility of police intervention crossed my mind just as in fact a plocie car drove up.
« Two officers came forward, scanned the scene and began to ask what had happened; did anyone see what had happened? After some pause one approached Chris and uncovered him, ask if he was OK and what he was doing. He told them he was an artist doing his 'piece.' They arrested him. »
— « Editor's Mail Bag, » Artweek, v.4, February 10, 1973, p.2. Critical letters regarding Barbara Smith's review of a performance by Chris Burden at the Mizuno Gallery (Artweek, January 6, 1973) and Smith's response to the criticism. Excerpt:
« Smith: 1. The artist tends to deal with his own feelings and concerns about this, his life. It would be naive to say that all artists find our times easy or rosy. So what is he to do ? It is not news to say that a great many artists find it very difficult to make paintings or sculpture when there is no viable architecture – upon which these media depend – the adequately represents either our needs or times. So we can cite many names other than Burden's that show there is a body of work being done in this area of, simply stated, what it feels like to BE now. Vito Acconci, Terry Fox, Joseph Beuys, Joan Jonas, Paul Cotton, Jim Byars, and more all of whom show how they feel in their own being and/or in alternative ways, formalized into event-like occurrences that transcend their personal dilemnas. »
— Barbara T. Smith, « Burden Case Tried, Dismissed, » Artweek, v.4, February 24, 1973, p.2. A report on the Burden trial; Chris Burden was arrested November 12, 1972, during a performance at the Mizuno Gallery, Los Angeles (see Artweek, January 6, 1973, p.3 and February 10, 1973, p.2).