Hands Scraping @ Richard Serra. 1968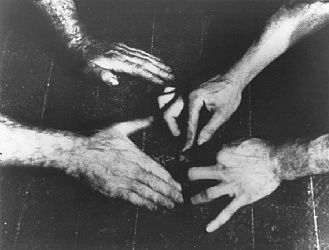 - SERRA Richard, Hands Scraping, 1968, 16 mm film, 4:30 minutes, Silent, b/w.
In Richard Serra's work Hands Scraping (1968), the hands of Serra and of the musician Philip Glass are seen gathering metal scraps into a pile located outside the frame. This simple action examined the process of sorting raw materials, and underscored the physicality of the hands. In this manner, Serra sought to examine the unfolding of basic sculptural process in time. Glass' participation in the film points to the affinity between Serra's sculptural cinema and minimalist music, which is based on reduced, repetitive structures.