Hyperbulie @ Valie Export. 1973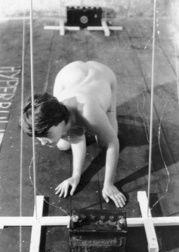 - EXPORT Valie, Hyperbulie, 1973.
— Valie Export (1940, Austria) is one of Austria's most prominent artists since the late 1960s and was one of the most important pioneers of feminist art in the 1960s and 70s. She explores radical questions about the conditioning of reality and the artistic representation of mental states. In her performances, coneptual photographs, videos and experimental films, she explores how women are constructed by the dominant gaze. She also develops strategies of subverting, refusing and overcoming the loss of self. She has been influenced by feminism, Viennese Actionism and Expanded Cinema. In 2007, she took part in the Venice Biennale and documenta 12. The Centre Georges Pompidou devoted an entire room to her in 2008. In 2009, she and Silvia Eiblmayr were the commissioners of the Australian Pavilion at the 53rd Venice Biennale.
In Hyperbulie VALIE EXPORT demonstrates how thoroughly our bodies and minds are standardised and restrained by the social system. ''She moves naked through a corridor of wires charged with electric current. She touches the wires over and over, collapsing in pain. She musters all her energy to reach liberation at the end of the corridor, crawling on all fours'' (VALIE EXPORT)