Kind als Pinsel @ (e.) Twin Gabriel. 2007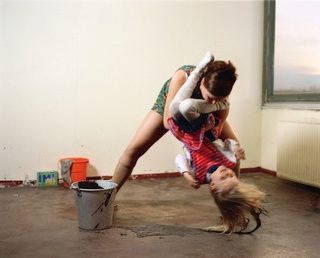 - (e.) TWIN GABRIEL, GABRIEL Else/WREDE Ulf, Kind als Pinsel (Kooperatorka), 2007.
Else Gabriel (1962, Germany) studied at the Dresden Art Academy in the mid-1980s. There she became a member of the group Autoperforationsartisten, which has known for its spectacular performances, combining elements of disgust, self-mutilation and shocking scenes that challenged the ideology and teaching methods of the GDR. In 1988, Gabriel began working with the artist Ulf Wrede (1968, Germany), and they have been collaborating under the name (e.) Twin Gabriel since 1991. They frequently stage performances and masquerades, in which they play different roles and often integrate children. Else Gabriel currently lives in Berlin where she is a professor at the Hochschule Weissensee.
Die Erziehung der Hirse (The Cultivation of the Millet) is a didactic poem without irony by Bertold Brecht, underscored by Paul Dessau 1952-54. Sung by Else Gabriel, it serves as a soundtrack for this film performance and accompanies images representing memories of her childhood in the GDR. The film culminates when a child is instrumentalised as a paint brush in a scene symbolising Gabriel's role as a woman, artist and mother.