Lora Sana @ Carola Dertnig. 2004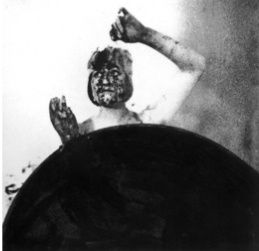 - DERTNIG Carola, Lora Sana, 2004.
Carola Dertnig (1963, Austria) bases her work on the intertextuality of different artistic practices such as drawing, photgraphy and text. Her collages as well as her videos and performances interrogate and critique the representational status of women in the visual field dictated by a male point of view. Dertnig analyses and questions the common artistic canon and conducts to a review of history of art from a feminist and queer perspective. She participated in numerous exhibitions and film festivals worlwide. Since 2006 she teaches ''Performance Art'' at the Academy of Visual Arts in Vienna. She also curated exhibitions with Stefanie Seibold on gender issues and feminist perspective.
''After my intense research on performance, I looked at photographs of Viennese Actionism once again, searching specifically for the autorship of women actionnist and how men and women had collaborated in Actions. Why were the women particpating mostly not mentioned by name? Was it embarrassing? Did these women have no status? The fictional actionist ''Lona Sana, 62'' arose from conversations I held with actionists Hanel Koeck and Anni Brus. (…) I applied black, minimalist interferences on copies of the original photos of some actions to direct to the active actions by women. In a performative intervention, I overdrew the male protagonists in a segment of my choice. These pieces were then re-photographed and turned into a documentation of another action: a perfomative intervention.'' Carola Dertnig.