Marcus Fisher's Wake @ Oreet Ashery. 2000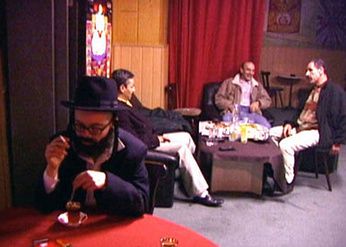 - ASHERY Oreet, Marcus Fisher's Wake, 2000.
Oreet Ashery (1966, Israël, UK) lives and works in London. Her work operates on the intersections between Jewishness, race, gender and the Arab and Muslin world. During 2006 her on-going project 'Welcome Home' focused on the Palestinians' right to return. Ashery's work has been shown extensively in museums, at cinemas, festivals, on streets, the internet, and in site-specific installations.
This mock-documentary fictionalises the life of Oreet Ashery's alter ego, the orthodox Jewish man Fisher Marcus. The grungy film uses footage from interventions, performances and home vidéos.