Mear en espacios publicos o privados @ Itziar Okariz. 2002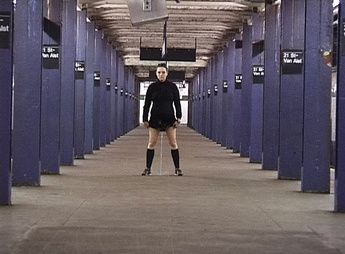 - OKARIZ Itziar, Mear en espacios publicos o privados, 2002.
Itziar Okariz's (1965, Spain) artistic work encompasses the fields of video, photography and installation. Her interests revolve around the construction of identity, subversion in the face of existing representation structures and body/space relationships, whether they are public or private. The immediacy and directions of her actions mark a constant dialogue with the locations where these are carried out. The repetition of the actions in different places and at different times is also an essential element in her work, creating nuances and differences within one basic element.
Itziar Okariz pees while standing, rolling up her skirt and spreading her legs. And she does this on streets, in hotels, on bridges and highways, on stairs in buildings, on cars and in the fountains of different cities. Her interventions are simple and direct: first, she appears at the place where she will carry out the action, then she slowly enters the picture and positions herself in the scene and immediately begins to make a present of her internal fluids to the city. Standing up straight and engrossed in the action, Okariz transcribes her identity into an ambivalent damp trace, producing an intimate writing in all the meanings of the term and taking over the spaces for a majestic organic moment.