Melle Bourgeoise Noire @ Lorraine O'Grady. 1980-83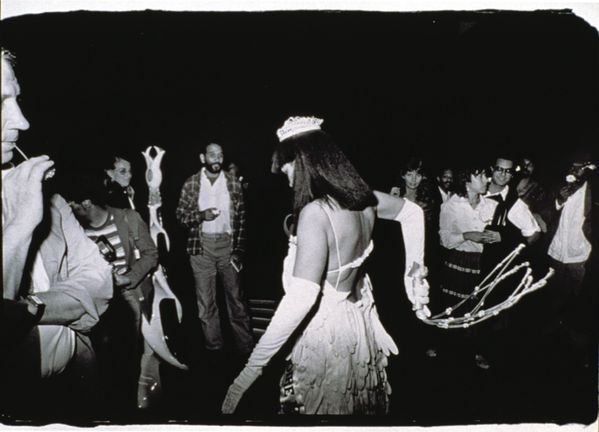 http://lorraineogrady.com/
- O'GRADY Lorraine, Melle Bourgeoise Noire, 1980-83.
Lorraine O'Grady (1934, USA) is an artist and critic whose installations, performances and text address issues of Diaspora, hybridity and black female subjectivity. She came to art late, making her first artworks in 1980 after working as a literary translator and rock critic. Ultimately her broad background contributes to a distanced and critical view of the art world and to a broadly interdisciplinary approach to making art.
Melle Bourgeoise Noire is the persona of a raging beauty queen created by Lorraine O'Grady in 1980 to protest the still largely segregated New York art scene. Her race, class and gender critique not only deconstructs black bourgeois constructs of feminity and high art, but also lays bare the internalized repressions and external oppressions of blacks. Wearing a white gown and cape made of 360 white gloves, she beat herself with ''whip-that-made-plantations-move'' and shouted out protest poems written for the occasion, with punch lines such as ''BLACK ART MUST TAKE MORE RISKS!'' and ''NOW IS THE TIME FOR AN INVASION!''
– The first time Melle Bourgeoise Noire invaded an art opening was at Just Above Midtown Gallery, NYC, the black avant-garde gallery, in June 1980. The invasion was her response to the Afro-American abstract art that she perceived as tame and well-behaved: ''art whith white gloves on''. Her next invasion was at the opening of Persona, a 1981 exhibition at the New Museum of Contemporary Art, New York. The exhition featured nine artists using personas in their work. Melle Bourgeoise Noire called it ''The Nine White Personae Show.'' When invited to give the outreach lectures to schoolkids for the show, she replied, ''Let's talk after the opening.'' After the performance, she was dis-invited from doing outreach activities.