Merkabah @ Elena Kovylina. 2011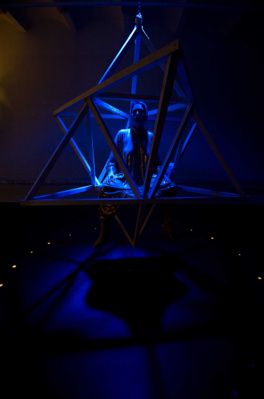 - KOVYLINA Elena, Merkabah, 17-09-2011.
Performance festival 9 Days, Parallel program of the Fourth Moscow Biennale, Solyanka State Gallery, Moscou. During her nine-day performance, the artist Elena Kovylina intends to test some of the practical techniques aimed at achieving immortality. Today the special methods used in ancient and modern studies, offering the achievement of aforementioned objectives, can be found in abundance in bookstores in sections such as ''Mystery and the unknown'', ''Spiritual'', ''The path of one's self'', and so on. This is only an exercise of eye revival, but also the meditation of Merkabah, the exotic types of yoga, the Holotropic Breathwork, lucid dreaming, and much more. Even if the artist will not be able to disappear, having become a flash of light, like the Prophet Elijah, she will at least try to look beyond the physical dimension. Every day will be devoted to another practive. The public will be informed on the day of the performance.