Performance in Paradise Garage @ Grace Jones. 1985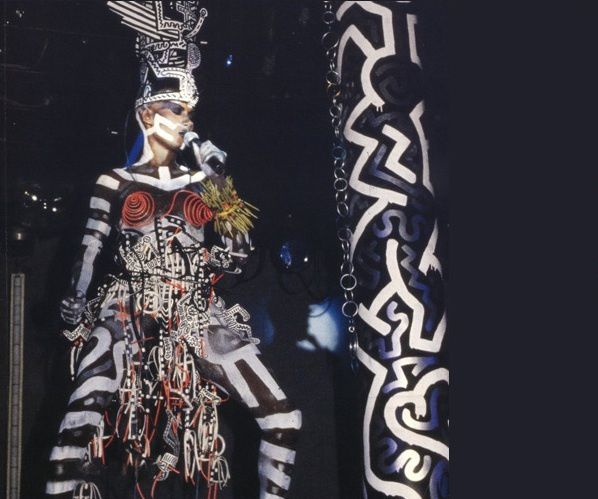 - JONES Grace et HARING Keith, Performance in Paradise Garage, 1985.
In the late 1970s and early 1980s, Grace Jones boldly interrogated both racial and sexual stereotypes associated with the black female body, through her work in performance. Interestingly, Jones, a Jamaican born artist, was actively working in the Parisian fashion world as a model at the time she moved into performance art. Her involvement and popularity in the Parisian fashion world as a spectacle, being a model, may be compared with the likes of Josephine Baker and Saarjite Baartman before her, black females whose bodies became the locus of the Parisian imagination.
Jones' bold and often confrontational dress and performance style played with and disrupted primitivist myths about black sexuality. In collaboration with artists like Jean-Paul Goude and Keith Haring, Jones transformed her body into medley characters, many of which satirized a primitivist reading of the black female body. The multiple personas of Grace Jones ranged widely from overly sexualized dance performances in which she donned a gorilla or tiger suit to very masculinized self-representations. For these performances Jones would appear with a crew cut in a tailored men's suit. Both these modes of representation in Jones' work, as hyper-sexualized animal and instance of cross-dressing have been related to Josephine Baker's performances, more specifically, her « jungle » performances in banana and tusk skirts and the famous photographs of Baker in a top hat and tuxedo (Kershaw, 21).
In 1985 Jones collaborated with Keith Haring in a performance staged at Paradise Garage, an alternative dance club in New York City. For the performance Haring painted Jones' body in characteristically Haring-stylized white designs. Interestingly, Haring's body art was inspired by the body paintings of African Masai. Jones also adorned her body with an elaborate sculptural assemblage of pieces of rubber, plastic sheen, and metal, created by Haring and David Spada. A towering sculptural headdress topped off the costume. Her breasts were delineated with protruding metal coils. The metal coils were a deliberate reference to an iron-wire sculpture of Josephine Baker by artiste Alexander Calder. Later in the performance Jones appeared in a Baker-style skirt, composed of yellow neon spikes. Through the painting, adomment, and importantly through her performance, Jones played with iconic signs of the « primitive, » and transformed these signifiers and her body into a site of power.