Performance Piece-Nylon Mesh and Maren Hassinger @ Senga Nengudi. 1977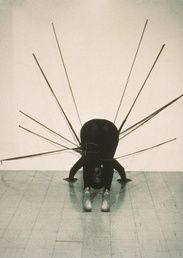 - NENGUDI Senga, Performance Piece-Nylon Mesh and Maren Hassinger, 1977.
Born in Chicago, Senga Nengudi (1943, USA) grew up in California, where she studied art and dance. In 1971, she moved to Harlem and became involved with just Above Midtown, the first Afro-American gallery in NYC. , exhibiting with Houston Conwill, David Hammons and Lorraine O'Grady. From the mid-1970s onwards, she became known for performance based sculptures made from nylon mesh – tights, a woman's underwear. At the same time she met Maren Hassinger with whom she started to frequently collaborate. ''Hardly supported by our white contemporaries, including the women's movement, we set out on our own'' (Nengudi). In addition to her sculptural performance practice, she has invented a variety of personne such as the photographer Propecia Leigh, painter Harriet Chin, and the writer Lily Bea Moor to explore, 'what's in a name', to subvert stereotypical expectations raised by an 'ethnic' artist name and generally to reflect the great significance of naming in black culture.
Between 1975 and 1977, Senga Nengudi became known for her nylon mesh – tights – sculptures. In the mid-1970s, she also met artist Maren Hassinger with whom she shared a sensibility for soft materials (influenced by Eva Hesse) and an interest in fusing sculptural ideas and dance. ''I'm working with nylon mesh because it relates to the elasticity of the human body. From tender, tight beginning to sagging end… After giving birth to my own son, I throught of black wet-nurses suckling child after child – their own as well as those of others, until their breasts rested on their knees, their energies drained. My works are abstracted reflections of used bodies – visual images that serve my aesthetic decisions as well as my ideas.'' (Senga Nengudi). These photographs show Nengudi's first performance in 1977, at Woods Gallery: Maren Hassinger performing Nengudi's objects.