Petjades @ Fina Miralles. 1976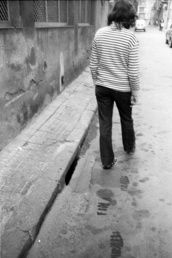 - MIRALLES Fina, Petjades, 1976.
As a member of the school of conceptual Catalan art from the 1970s, Fina Miralles (1950, Spain) early works were strongly influenced by Arte Povera, land art and an incipient environmentalist-feminist thought. The art-life binomial runs through her whole artistic production and is reflected in an attitude toward nature which is not just intellectual but also bodily and physical. The physical properties of natural materials: sand, stones, seaweed, trees and the sea, acquire in her work a fundamental weight, and are, at the same time, linked to a rediscovered feminine symbology, in opposition to the dominant culture.
In Petjades (Footprints), Fina Miralles walks around the city, leaving traces of her name on the streets. Miralles subtly positions herself against the custom of women taking their husband's surname when they marry, conveying her identity and independence in public space.