Routine performance @ Martha Wilson. 1972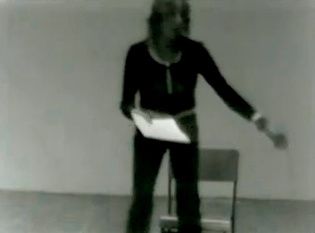 - WILSON Martha, Routine Performance, 1972.
Martha Wilson (1947, USA) is an artist whose first performances were for an audience of one – her Pentax Camera. She began her artistic career in 1971, while teaching English at the Nova Scotia College of Art and Design in Canada. She moved to New York in 1974, where she performed for real audiences at The Kitchen, the Whitney Museum, PS1 and countless other venues. In 1978, she founded the all-female punk band DISBAND. None of the members could play an instrument, and DISBAND disbanded in 1982. After this, Wilson turned to political satire, performing as Nancy Reagan, Barbara Bush and Tipper Gore, to name a few of her personas. Martha Wilson was also the founder and director of Franklin Furnace (1976-1996), an art event space and archive specialising in process oriented art.
Routine Performance is an early video performance in which Martha Wilson adopts the mannerisms of a kind of newcaster or spokewoman while philosophing about art, the artist and the audience. The brief self-scripted lecture is presented dryly and with subtle humour, highlighting the structuralist analysis of performance and performer. The performance is one of a series of four similar video performances that includes Premiere, Art Sucks and Appearance as Value, which were recorded in 1972 in Halifax, Canada.