Saemann meets Schneemann @ Andrea Saemann. 2005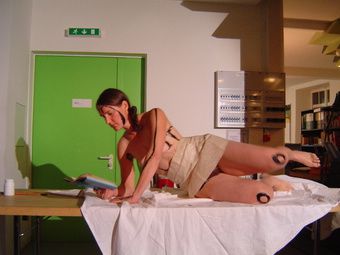 - SAEMANN Andrea, Saemann Meets Schneemann, 2005.
Andrea Saemann (1962, Switzerland) studied architecture in Zurich and art in hamburg under Marina Abramovic. She currently lives in Basel, where she is an artist and independant curator. She has coordinated, among other things, Kaskadenkondensador, a space for contemporary art, performance and music. Since 2007, she and Katrin Grögel have put together Performance Saga, a video interview project and performance art festival. Her works often take the form of re-performances dealing with the pioneers of feminist performance art. These performances typically begin as dry lectures, which spark the audience's interest while inspiring more and more laughter.
— In this 45-minute performance, Andrea Seamann talks about her encounter with Carolee Schneemann when they met for an interview and about her fascination for her work as an artist. She tells anecdotes about Schneemann's love life and life as an artist, to the growing amusement of her audience. She thereby portrays the attitudes of a younger generation, which sometimes has difficulties understanding the actions of pioneers of feminist art. Saemann's re-enactement of Schneemann's Interior Scroll and her dry and humoristic narration is a close as anyone can get to an iconic performance.