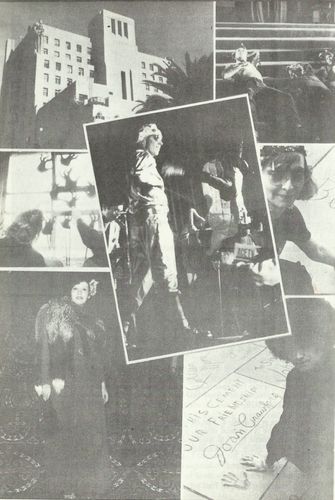 - DECCADANCE, Art's Stars in Hollywood: The Deccadance, Los Angeles, February 2, 1974.
Videotape, 1 hour. On the ceremonial dinner, awards presentation, and the Daccadance event. Produced by Chip Lord and Megan Williams with the assistance of Willoughby Sharp, Environmental Communications, ACE Space Co., and Willy Walker.
- DECCADANCE, Art's Stars Interviews, Los Angeles, 1974. Videotape, 1 hour.
Features Willougby Sharp video with some of the Canadian Deccadance participants: Marcel Idea, Mr. Peanut, A.A. Bronson, Dr. Brute, Lady Brute, Granada Gazelle and others.
- DECCADANCE, Hollywood Edition Art's Birthday. February 2, 1974.
A newsprint tabloid, produced on the occasion of the Deccadance event. excerpts:
ELK'S BUILDING, LOS ANGELES, FEB. 2
The Decca Dancers, with approval in principal from Robert Filliou and the Eternal Work, celebrated the one million and eleventh Anniversary of the birth art. There was no worldwide school vacation or paid holiday for all the workers of the world, but for the eight-hundred people who attended there was an evening of all-round festivities and spontaneous funmaking as the Canadian dancers saluted the network and opened the doors of a New Era with the presentation of the Sphinx D'Or Awards.
SPHINX D'OR AWARDS
BEST ANIMAL IMPERSONATION – Irene Dogmatic for Mildred Doggerel, Oakland.
ART'S DEAD BUT GOSSIP'S STILL ALIVE – Noah Dakota Toronto.
BEST CONTRIBUTION IN A RAPID OFFSET ZINE – John Dowd N.Y. and Bum Bank Vancouver for Fanzine Fanzani.
BEST GLOSSY ZINE –Ifel Toronto and Fanzini Goes To The Movies Vancouver.
BOOKIE OF THE YEAR – David Young, Toronto.
BEST ALIAS – Willoughby Sharp, N.Y. for Mighty Mogul and Lowell Darling Hollywood for Duddley Finds.
BEST NEW TALENT – Gilbert and George, England.
MS. CONGENIALITY – Anna Banana, San Francisco.
I NEVER PROMISED YOU A RROSE GARDEN MOSTLY FLOWERS AWARD – the judges were unable to reach a decision so there was no winner.
TOM OF FINLAND BULDGE EVENT FOR BUDDHA UNIVERSITY – Pablo Picasso posthumously.
BEST CONTRIBUTION TO ART DECO IN 1984 – Ms. Rhonda, Vancouver.
BEST ZEROX ART – Les Petites Bonbons Los Angeles for Meet Andy and David.
BEST CAMOUFLAGE – Dr. Brute, Vancouver for Spots in Front of Your Eyes.
BEST BUSINESS WOMAN – Sandy Stagg, Toronto for Amelia Earhart Originals.
THE SPHINX D'OR AWARD – Count Fanzini, Vancouver for Bum Bank. »
— James Minton, « Decca Dance in the City of Angeles, » Artweek, v.5: part 1, february 23, 1974, p.7; part 2, March 2, 1974, p.6; part 3, March 9, 1974, p.2. An extensive three part article on the international Deccadance event, to celebrate Art's one million and eleventh birthday, held at the Helks Hotel, Hollywood, California.
— « The Hollywood Deccadance Art's Birthday, February 2, 1974 », Mondo Artie, Episode No.1681/IS, no.17, Fall 1975. Special issue of IS., edited by Vic d'Or for The Eternal Network; documents the Deccadance held in Los Angeles, 1974. Excerpt:
« [Marcel Idea (Michael Morris)]
Friends, we are from Canadada to celebrate the one million and eleventh anniversary of the birth of art. We plan to have a marvelous time tonight. Don't worry about art, there will be plenty, there will be art coming out of your ears, nose and Private Partz. Art was life and in the next decade we hope it will be the same again.