Them-me @ Nisrine Boukhari. 2006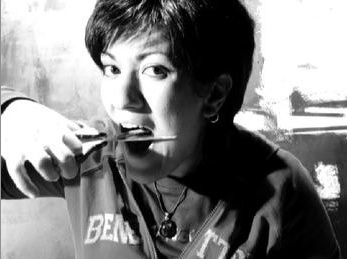 - BOUKHARI Nisrine, Them-Me, 2006.
Nisrine Boukhari (1980, Syrie) studied at the Fine Arts Faculty at Damascus University. In her installations, participatory projects and performances, Boukhari deals with questions of psycho-geography, aspects of interferences in spatial environments and psychological moods of individuals. She and her sister Abir founded the gallery and project space All Art Now in 2005 in the old centre of Damascus. It is the first location in Syria devoted to contemporary art, performance, video art and installations.
With its many cross-fades and quick cuts, the experimental video Them-me shows the artist in front of the camera, performing different changes on herself and her physical appearance. She hold a plaster mask in front of her face, veils herself in a white cloth, and binds her head with several black bands. The video addresses questions of identity and self-representation, and, according to the artist, it offers a view 'into myself and the others who live inside me'.