Trio A @ Yvonne Rainer. 1978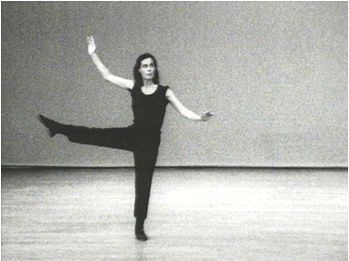 - RAINER Yvonne, Trio A, 1966 (danse).
Yvonne Rainer (1934, USA) has been a key figure of the New York avant-garde since the 1960s. Together with Trisha Brown, Meredith Monk and a few others, she founded the influential Judson Dance Theater in 1962 and continued to develop her minimalist dance style. Influenced by Anna Halprin's revolutionary improvisation technique, she emphasized everyday over virtuosic or dramatic movements while leaving room for coincidence as a creative factor. Her preoccupation with specific situations of everyday life; social, political and feminist issues; the marriage of performance and image and the construction of the gaze between the performer and the viewer inspired her to begin exploring experimental film and writing in the 70s.
Trio A is a well-known dance sequence by Yvonne Rainer. Since its first presentation in 1966 as part as the larger performance The Mind is a Muscle, Part 1 at Judson Memorial Church in New York, it has been performed repeatedly in various forms and contexts by dancers and non-dancers alike. The piece comprises a sequence of unpredictable movements that unfold in a continuous motion, deliberately opposing familiar dance patterns of development and climax. According to Rainer, ''The individual sequences last from 4 1/2 to 5 minutes, depending on each performer's physical inclination. Two primary characteristics of the dance are its unmodulated continuity and its imperative involving the gaze. The eyes are always averted from direct confrontation with the audience via independent movement of the head or closure of the eyes or simple casting down of the gaze.''