Unter weissen Tüchern @ Cornelia Schleime. 1983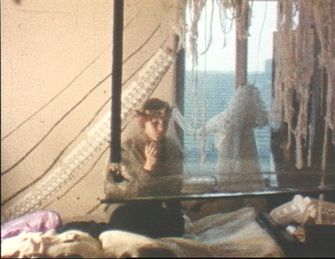 - SCHLEIME Cornelia, Unter weissen Tüchern, 1983.
Cornelia Schleime (1953, Germany) was born in East Berlin, studied makeup design and painting in Dresden and emigrated to West Berlin in 1984. In the 1970s, she created her first installations and performances, which led to her being banned from working. After she had moved to the West, her work continuously turned more towards painting. In 2008 she published Weit Fort, the story of a woman who falls in love with a Stasi informer.
Part of the series of super-8 films made between 1982 and 1984, Unter weissen Tüchen (Under White Fabrics) was intended to form a surreal, individual counterweight to the narrow definition of artistic images decreed by the state: A woman is tied to a door, which constantly opens and closes. Her body is completely tied up, the eyes are the only parts of her body she is able to move. This is an allegorical image for the way in which the artist (and her comrades in arms) were locked up inside the GDR.