Utopian Unemployment Union @ Factory of Found Clothes. 2009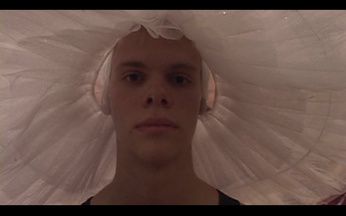 - FACTORY OF FOUND CLOTHES. PERSHINA Natalia/EGOROVA Olga, Utopian Unemployment Union, 2009.
In 1995, Gluklya (Natalia Pershina, 1969, Russia) and Tsaplya (Olga Egorova, 1968, Russia) founded the artist duo Factory of Found Clothes in St.Petersburg. The team of artists is known for its performances and fashion happenings. They use their works as a means to artistically transform social problems. ''Art is on the side of the weak,'' says their manifesto, and ''artists are not mentors but friends.'' Gluklya and Tsaplya are also coordinators of the group of artists Chto delat (What's to be done?).
This artistically ambitious utopia for the unemployed in Russia is based on ballerinas introducing boys to the art of ballet. In their first performance, entitled Utopian Unemployment Union, the roles are reversed and the boy dance the parts of the ballerinas. Exploring the potential for change in ossified structures is a typical characteristic of Factory of Found Clothes.