Visitors @ Chicks on Speed (COS). 2004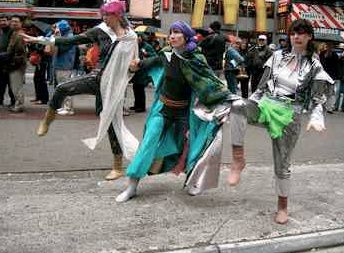 - CHICKS ON SPEED (COS), Visitors, 2004.
Chicks On Speed (COS since 1997, Germany) were founded by Melissa Logan (USA) and Alex Murray-Leslie (Australia) in Munich as a multi-disciplinary art project.They were primarily active as a band until 2005, when then they began combining music, art, fashion and activism. Their members sometimes change, and they regularly cooperate with artists such as Anat Ben-David and Douglas Gordon, among others. Their works are almost always humorous and are influenced by punk and DIY aesthetics – they oscillate between live performance, installation and music video while representing a new, pleasure-oriented feminism. COS currently live in Hamburg, Germany.
The Chicks on Speed are roaming through New York in gaudy costumes – they are visitors from outer space, mingling with humans and exploring their environment using a strange language of movements. This public performance deliberately integrates the reactions of the audience: young people walking by temporarily take part in the performance, while other onlookers put money in a collection bag. Edited to create a colour-manipulated, narrative video, Visitors breaks down the distinction between performance and video art, integrating the audience without being intrusive. Camera/Editing: Deborah Schamoni.