Waiting @ Faith Wilding. 2009 (reprise de 1972)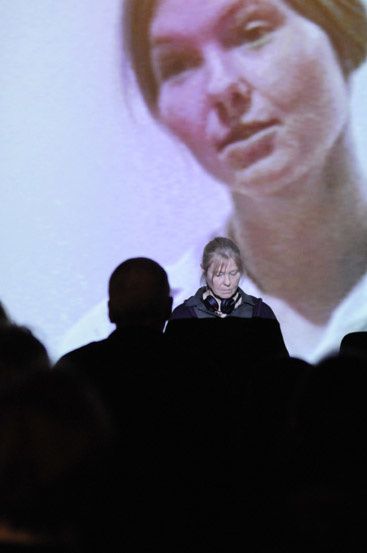 - WILDING Faith, Waiting-With, 2009, reprise de la performance de 1972. photo : Jan Stradtmann.
Wait-With is Faith Witlding's reinterpretation of her iconic performance Waiting
from the 1970s. She rewrote the origianl performance in 2007 and had since staged it several times. In Wilding's words, ''The prospect of redoing Waiting as a live performance after than 30 years was both provocative and frightening, but I decided that this was an opportunity to revisit and comment on an early work, which had become iconic and frozen in time.'' Instead of simply redoing the performance, Wilding undoes the piece to rearticulate Waiting as an ''act of political love'' and of resistance to consumption and forced production. Performance : 23 January 2009, re.act.feminism, Akademie der Künste, Berlin.